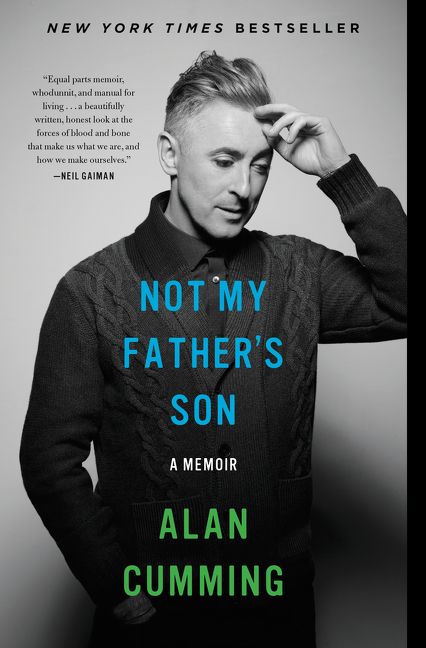 I love listening to the autobiographies of my favourite actors and comedians. Kevin Hart, John Cleese, Felicia Day, Amanda Palmer, all have put out such engrossing, fascinating reads. I couldn't get enough of them!
When I joined Twitter I described myself as "Scottish elf trapped inside a middle aged man's body" and I still think that's accurate.
Despite this cheery description, Alan Cumming's Not My Father's Son is a considerably heavier book than some of the abovementioned authors' works, though if you know Alan's work and the flamboyant personality he puts forward into the world, you won't be surprised by the generous helping of humour which follows or precedes each of Alan's stories about his abusive monster of a father.
The recollections of these memories are interwoven with the events of Alan's shot for the British series Who Do You Think You Are across a few months in 2010. For those who, like me, might be unfamiliar with these BBC series, Who Do You Think You Are digs into the family history of a famous Brit and reveals herefore-unknown secrets to the guest in question. It's a fascinating experience for the star around which the episode is centered, as their reaction at finding out old family mysteries are caught on camera. This secondary story is about Alan's grandfather, Tommy Darling, a soldier in WW2 who died under mysterious circumstances.
Despite some mind-blowing revelations along the way, what struck home with me is that Alan manages to extract important lessons from even the most negative experiences. He doesn't allow the past to form him into a man as weak as his father; he uses it as fuel to grow and be better. To me, that's what this book should've been and I'll happily give it my recommendation to any fan of the biography genre.